"Rent a Pottery Wheel Today for Creative Fun!"
Pottery Wheel Rental - potterycapital.com
LCD Display Touch Screen. You can monitor and adjust the work speed, control the direction of the wheel head and switch between 2 operation modes between manual or foot pedal. LCD is waterproof.
Comes with aluminium alloy 25cm wheel head. Detachable water basin.
Motor is 350W and runs quietly around 50 decibels. It offers both clockwise and counter clockwise to accomodate lefties. The motor enables rotary speed of 0-300rpm.
Comes with grounded leakage protection device.
You can throw standing up or traditional sitting down position.
Weight is around 12kgs.
**You must provide your own pottery stool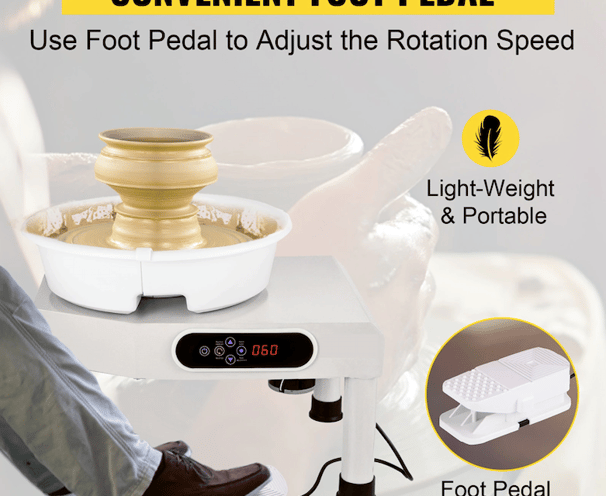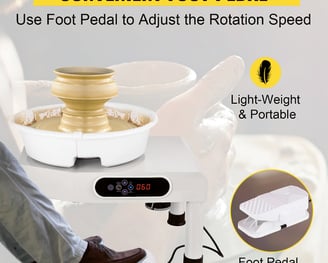 Are you looking to practice at home, in your own time?
We have one you can loan for a month to month basis.
Hire per month is $250 rent must be paid in advance.
You can add a bag of clay or tools if you don't have any clay or tools. We sell them in store.
Your pottery wheel will be cleaned before you collect and must be dropped off after hire.
The pottery wheel must be cleaned thoroughly after each use. Please wipe it until there's no clay residue left.
We only rent the wheel to students who are currently enrolled with us or other studios.
You will need to email us a screen shot of your driver's license, current billing address/utility bill, social links and your pottery tutors name/pottery club prior to pick up. We only rent to individuals who has attended a pottery class with us or else where.
Botpots Christchurch Pottery Wheel Rental Agreement
Please print this agreement, sign it and email it to hello@botpotschristchurchurch.com prior to rental. This must include your driver's license and recent utility bill. (You can copy and paste it to Microsoft Word document)
First and last name: _____________________________________________________ Mobile number_____________________________________
Address/place of use:____________________________________________________ Email Address:______________________________________
Pottery Club: _______________________________________________________ Tutor:__________________________________________________
This Agreement is for the rental of an electric pottery wheel from Mapatar Limited t/a Botpots Christchurch to RENTER identified at the bottom of this form.
The wheel remains a property of Botpots Christchurch. The RENTER has no rights other than renting the wheel.
The RENTER agrees to pay rental fees in accordance to the agreed price of $40 per week / $160 per month. The rental fee is due in advance.
Payment is due in advance of receiving your rental. There will be $25 late payment fee for each unpaid week of rental extension.
The RENTER shall keep and maintain the wheel during the terms of their rental at their own cost and expense. They shall keep all equipment in good state of repair, normal wear and tear excepted.
The RENTER shall pay Botpots Christchurch full compensation for replacement and or repair of any equipment which is not returned or any equipment which is damaged or in need of repair to put into the same condition as it was in at the time of rental. Normal wear and tear excepted. Botpots Christchurch invoice of replacement conclusive as to the amount RENTER shall pay under this paragraph for repair or replacement.
The RENTER shall not remove the equipment from the place of use of the wheel as identified on this form without any written approval from Botpots Christchurch.
The Agreement is between Botpots Christchurch and the RENTER only.
The RENTER must return the wheel to Botpots Christchurch at the end of the rental period.
No refund shall be made for any portion of a rental period that the wheel is not used by RENTER.
Acceptance of returned wheel but Botpots Christchurch does not constitute a waiver of any of the rights Botpots Christchurch has any of the rental Agreement.
Botpots Christchurch makes no warranty of any kind regarding the rented equipment, except that Botpots Christchurch shall replace the equipment in accordance with the manufacturers identical or similar equipment if the equipment fails to operate in accordance with the manufacturers specifications and operation instructions. Such replacement shall be made as soon as practicable.
Botpots Christchurch may terminate this Agreement immediately upon the failure of the RENTER to make rental payment when due.
The RENTER shall not pledge or encumber the rented equipment in any way.
The RENTER indemnifies and holds Botpots Chritchurch harmless of all injuries or damage of any kind.
The RENTER shall be responsible for all reasonable legal fees and other cost involved in collection of over due amounts and /or recovery of wheel.
This Agreement shall be construed under the Laws of New Zealand.
Signed:______________________________________________________ Date ______________________________________________________
Get in touch if you are looking to rent a pottery wheel